Best Online Payment Gateways Australian Small Business 2021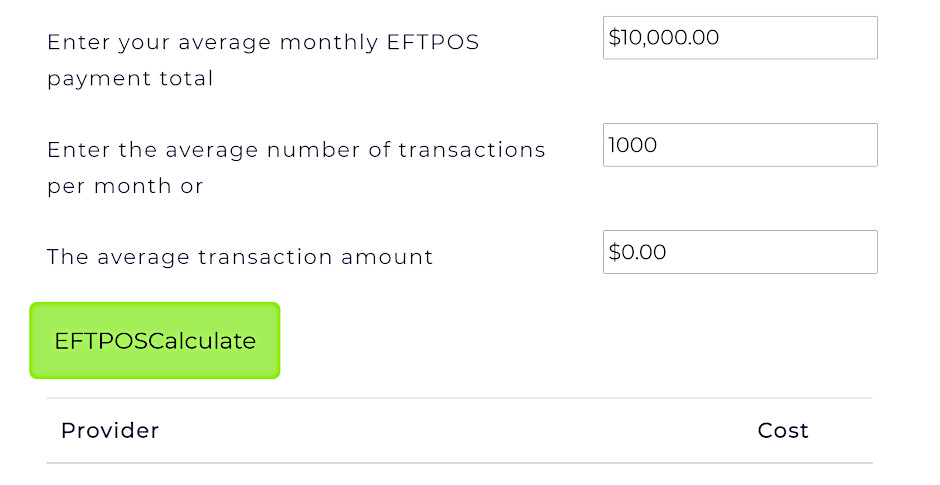 Find the best online payment gateway and EFTPOS for Australian small businesses. I have done the number crunching so you don't have to.
Here at Braidwood IT Service, I am regularly comparing the online payment options Australian small businesses have available to them. This is with a view to identifying the best option for their unique online payment requirements.
This also includes considering requirements for Australian EFTPOS machines and EFTPOS payment for in-store purchases.
I recently had the need to compare options for a small business client that was opening a cafe. I took the opportunity to build a calculator to empower other small businesses to find the best payment gateway for online payments in Australia, as well as exploring some of the small business EFTPOS Machine options in Australia.
The list of payment gateway providers I chose were based on their availability in Australia (not necessarily based in Australia but works with AUD and has AUD pricing). I also selected the best payment gateways that supported WordPress and WooCommerce, Wordpress and EasyCart, Shopify, and Square POS or Square for Restaurants. I have included Square as they have a considerable footprint in small businesses however it's important to realise that Square only has payments via it's own system. There is no 3rd party payment gateway options. This is great for simplicity and their rates are pretty reasonable, but the trade-off is flexibility. In addition, as my clients use MobiPOS Restaurant POS, I have included some details for that and potential costs based on turnover.
First a few caveats:
This list is not a comprehensive list.
I am not providing comment on all the capabilities of each option.
You may have unique requirements that exclude some or all of these payment gateways.
Your website or shop may not support these options.
Pricing is as of mid May 2021 (I have provided a way to enter your own pricing)
This is not financial advice, do your own homework and consider the options for your particular business.
This article may not be 100% accurate but I've done my best, based on my experience and the information I had available to me at the time.
Online Payment Gateways
The payment gateways I included are:
Ruled out early were WorldPay (aka Pay360), and Authorize.net as they just didn't have competitive pricing for small business in Australia. In addition, WorldPay for example only has pricing in british pounds and their contact numbers are in the UK.
EFTPOS machines Australia
As part of my review of payment gateways in Australia, I also reviewed some EFTPOS machine options. The EFTPOS providers in Australia include:
Fee Structures
Payment Providers in Australia have different fee structures that include a fixed per transaction cost, an transaction cost based on percentage of the transaction, or a combination of both. If your small business has a regular volume of EFTPOS or online payments, you should also consider some of the providers that offer discounted volume charges if you agree to a monthly fixed fee. Some examples of these are the Commonwealth Bank and Westpac. No doubt there are others.
Because of this fee structure you should ideally calculate what your expected monthly income will be thru the service. You also need to have some idea of your Transaction volume and subsequently the average transaction amount. In Australia EFTPOS cards frequently include mastercard or visa capability.
Smart Processing saves you money
Some of the EFTPOS payment systems are able to route the transaction thru the EFTPOS network or Visa/MasterCard network depending on which has the lower transation cost. Tyro's Tap and Save product is an example of this, read their explanation here . This can save you significant money. My calculator does not take this dual routing ability into place because most clients are unable to calculate what their transaction volume would be through EFTPOS. If you already have that data, please do your research on potential savings as it could be significant. Also I noted that providers differ in how this works, with some doing it automatically, and others just providing a price point at which you want the transaction to go via EFTPOS. As an example, given a transaction of $10, you may pay 2% or $0.20 via MasterCard vs a fixed $0.30 via EFTPOS (saving 10 cents). If the transaction is $50, you would pay $1 via mastercard vs $0.30 via EFTPOS (saving 70 cents).
Some of these providers also have other fees. These additional fees can include :
Chargeback fees
Payout fees
Transaction Reversal (voiding a sale)
International Transation fees (This review only deals with AUD transactions in Australia)
Some providers require you to rent the EFTPOS hardware (Tyro, NAB)
Some charge more for particular types of transactions (eg. AMEX and Diners)
Other considerations
There are many other considerations:
Which payment gateways or EFTPOS machines does your software support (particularly for people with existing Point of Sale Systems)
Who do you currently do business banking with and are there benefits in using their service.
Do you need to charge recurring payments? (not all online payment providers support recurring charges)
Do you need to integrate the EFTPOS machine with your Point of Sale (some providers charge more for this capability)
Support - Is it in Australia - What hours do they operate - What ways can you contact them - Check what others are saying about them
What flexibility do you have in up-sizing or down-sizing the solution, specifically for fixed fee plans.
Do you need a bank account with the provider and what are the costs of that?
Payout timing, when do they pay out to your nominated account?
Are there other benefits you may use, for example Tyro offers an overdraft facility and payments are taken as a portion of your transactions.
Fee Table for Online Payment Gateways in Australia - May 2021
| Provider | Fee Structure | Notes |
| --- | --- | --- |
| SecurePay | 1.75% + $0.30 | Provided by Aus Post - only supports Magento, PresaShop, and WooCommerce, or you need to a custom developed solution |
| Stripe | 1.75% + $0.30 | Very widely supported by many platforms. |
| PayPal | 1.75% + $0.30 | Widely supported but can't do recurring/subscription payments. |
| Braintree | 1.75% + $0.30 | |
| Square | 2.2% thru API | 3% |
| GoCardless | 1% + $0.40 | capped at $4 per transaction |
| eWay | 1.5% + 0.25 | |
| Provider | Cost |
| --- | --- |
| SecurePay | |
| Stripe | |
| PayPal | |
| Braintree | |
| Square | |
| GoCardless | |
| eWay | |
Fee Table for EFTPOS Machines in Australia
As of May 2021, these are the fees for the EFTPOS Machines.
| Provider | Transaction Cost | Machine Cost | Notes |
| --- | --- | --- | --- |
| Tyro | 1.1%+gst | $29 or $39 (+gst) /month | |
| Square | 1.9% thru square reader | $59 outright | |
| Square | 1.9% thru square stand | $299 outright | |
| Square | 1.6% thru square terminal | $439 outright | |
| Square | 1.6% thru square register | $1099 outright | |
| Mint mPOS | 1.86% + $0.30 | $11/month | |
| Westpac | Fixed monthly fee $55-$225 depending on card turnover + overage 1.5% | $0 for standalone, +$10/month for POS Integrated | |
| Commonwealth Bank | Essential Lite - fixed monthly fee $30-$150 depending on monthly card turnover, overage charged at 1.5% | $0 | includes least cost routing |
| | Essential Plus 1.8% | $24.50/month - 6 months free rent | includes least cost routing |
| NAB | 1.15% | $25 or $35 | $35 if you want to integrate with a Point of Sale |
| Provider | Cost |
| --- | --- |
| Tyro | |
| Square @ 1.9% | |
| Square @ 1.6% | |
| Mint mPOS with M10 Device | |
| Mint mPOS with Move5000 device | |
| Westpac | |
| Commonwealth Bank | |
| Commonwealth Bank | |
| NAB | |
It should be noted that all the providers have deals and rates can vary depending on your turnover. Please use these results as a guide to narrow down your options and always check with the provider to see if you can get a better deal. I have not included all possible deals. For example I know that Tyro do offer a 1.8% flat rate with a free machine.